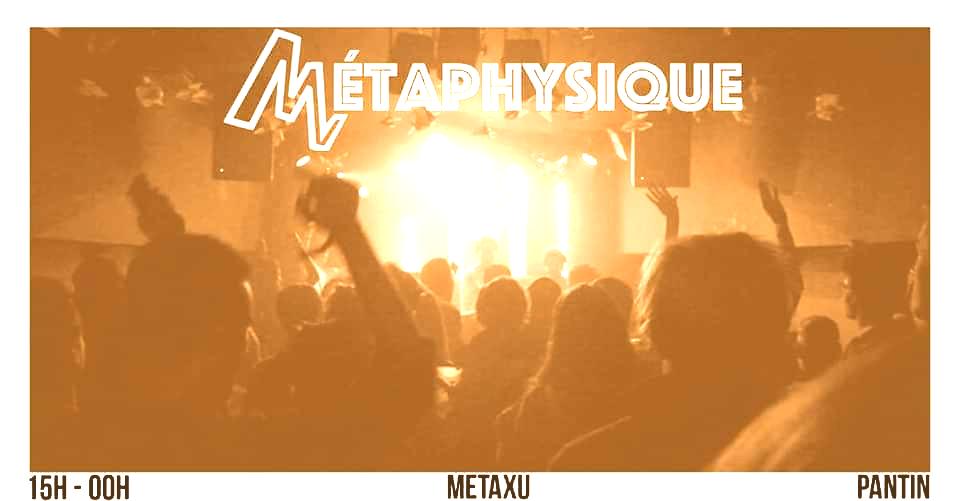 15 février

samedi, 3 to 11
# II
samedi, 3 to 11
15 février
METaPHYSIQUE II
💰15H – MINUIT
🕰Gratuit avant 16h, 5€ ensuite
▬▬▬ MÉTAPHYSIQUE II 🚢 ▬▬▬
Métaphysique est de retour sur la péniche du Metaxu, à Pantin. Après l'ambiance folle que vous avez mis à l'opening du mois de Décembre, on a plus que hâte de vous réouvrir les portes en fonte du bateau pour, cette fois un samedi 15H – MINUIT !
▬▬▬ LINE UP ▬▬▬
Côté musique on est très heureux de pouvoir vous proposer uniquement des extended sets, en réduisant le nombre d'artistes aux platines, et laisser le temps à chacuns d'installer sa vibe.
📀Secret Guests (Berlin, Monticule Festival <3)
📀Mad Pablo (Sarcus Festival) b2b Mourtouf (IBOAT, Binarysound)
📀Projecture (Groove Boys Project] Records)
🎹 Jakku – live – (Métaphysique)
📀L-é-o b2b Soufflé Caramel, MLM (La Menace Records)
▬▬▬ MANIFESTO ▬▬▬
– Don't take pictures or videos of any kind inside the boat.
– Don't use racist, homophobic, transphobic, sexist or discriminatory language.
– Don't use your phone on the dancefloor, it kinda kills the vibe.
– Don't touch without asking and respect a no.